EMAIL: A Macmail to Thunderbird Migration Process THAT ACTUALLY WORKS
For a whole bunch of reasons not worth exploring, when I moved my main laptop from Windows to a Macbook about 9 years (and three MacBooks) ago, I was a hard-core Eudora user. So I gave Eudora for Mac a try - but it wasn't much like the Windows version and eventually fell back to using Macmail mainly because it was there.
It hasn't been a good fit: I get way too much email for Macmail to handle, its search function is unreliable and random and nearly always slow, the folder structure is bizarre, and the documentation is opaque.
Thanks to a perpetually busy schedule and good old inertia, I put off change.
As a result, I've just spent the last week recovering about 100,000 email messages from Macmail gone bad. Part of the problem appears to have been caused by a faulty hard drive, but the other part is my own fault for not bailing out of Macmail a long time ago.
i decided to switch to Thunderbird.
I've used Thunderbird in the past (the free mail client from the Mozilla foundation) and should have made the switch sooner. To paraphrase an old saw: necessity is the mother of invention, and in this case, more than enough incentive to switch finally switch horses.
My son and business partner, Stephen, has been using it for years, has repeatedly demonstrated how much faster and more reliable search works in Thunderbird than in MacMail, and offers capable tech support within easy reach.
I thought the switch would be easy.
ONLINE HELP WASN'T VERY HELPFUL
We all know by now that the Internet knows everything. We also know that finding accurate, usable information can be a huge challenge. That was the case here.
I don't expect Apple to be particularly helpful when it comes to abandoning one of their core OSX applications, but also didn't expect to have to slog through page after page of unhelpful suggestions from all sorts of online sources.
Afer hour upon hour of searching, reading, testing, I finally cobbled together a process that works. It's not overly elegent, it's time consuming, and it's imperfect, but I now have functioning email once again.
EXPORT MACMAIL MAILBOXES
Make a full backup of your computer first. In fact, make two. That way you can test this out on a backup (I use Carbon Copy Cloner to make bootable backups. It's been highly reliable and, in my view, worth the price for peace of mind.)
Open MacMail (or 'Mail' as Apple now calls it but which I won't for the purpose of clarity).
You're probably going to want to save both incoming and outbound (sent) messages. I have six active accounts, each with an inbox and sent mail folders. So that made a total of a dozen 'Mailboxes' to export.
Select the first mailbox. Under the Mailbox command, you'll find 'Export Mailbox' - select it and you'll get a prompt for where you want to store this mailbox. Create a folder on your drive to save the exported mailbox.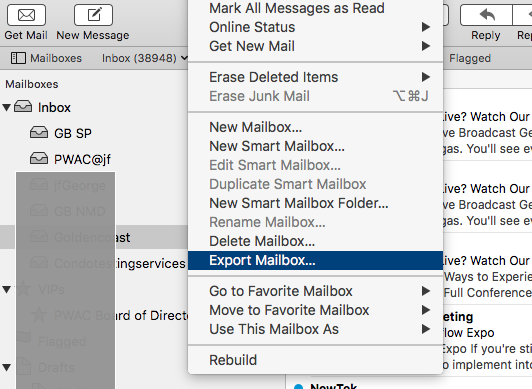 You'll soon discover that the mailbox is actually a folder and inside the folder is a file called 'mbox' - which is what we're after. Select and export each mailbox in turn.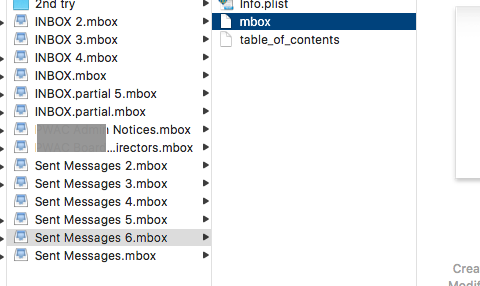 INSTALL THUNDERBIRD
This is one instance in which there is sufficient documentation out there without me adding to the pile.
You'll also want to create your email profiles: one for each mailbox. Once you've set up your accounts, and have verified the logins work, then send a message from each of your accounts. This will create the appropriate 'Sent' mailbox for each account.
Then you'll need to go to the Thunderbird Add-ons manager and search for an extention called ImportExportTools. Install and activate this add-on.
TRANSFERRING YOUR EMAIL MESSAGES INTO THUNDERBIRD
Select 'Local Folder' in Thunderbird: you'll find it in the left navigation panel near the Trash.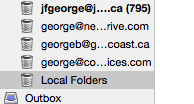 From the Thunderbird commands menu, select Tools > ImportEportTools > Import MBOX file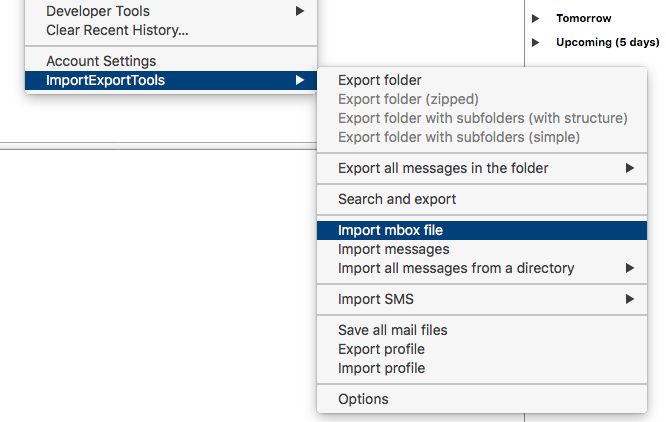 This will pop up a dialogue box - select the first option and click on OK.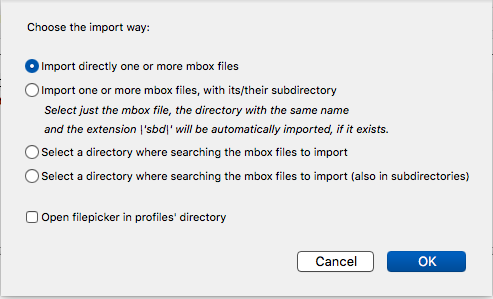 This will pop up a file folder dialogue box - find the folder where you saved the exported Macmail mailboxes. Note that the exported mailboxes are really folders. Inside each folder will be two or three files, one of them called Mbox.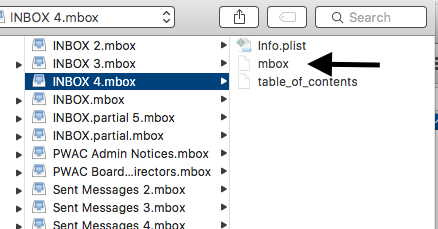 Select one of the exported mailbox files, open it, select the Mbox file inside, then click Choose on the dialogue box.
Thunderbird will begin importing the file into the Local Folder. Open Local Folder and you should see the Mbox folder beneath it, and once you select the Mbox folder, you'll see the email messages exported from that particular Macmail mailbox.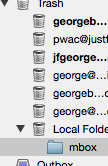 Select and open the mbox folder beneath Local Folders. You'll see the imported messages. Select the messages and move them to the appropriate account that you set up earlier in Thunderbird. (In other words, if the backup folder from Macmail is for your account myaccount@myemail.com, then that's the account folder you'd copy the messages into in Thunderbird.)
Once you've moved that batch to the correct account folder, delete the Mbox folder in the Local Folder directory, and repeat the process with the next backup mailbox.
THE DOWNSIDE
I knew from the start that I'd lose data about email messages: which ones I'd read, which were forwarded or answered. On the other hand, Thunderbird is smart enough to recognize message threads and tie them together as 'conversations'.
I think that's a small enough price to pay for improved speed, vastly improved search, and the move to a more robust mail client in general.
Cheers,
George
UPDATE 9 July 2017: Wow. Was that ever a good decision. I should have made the move a long time ago. Thunderbird has been fast, easy to set up, with a search function that actually works.
---
---
Comments